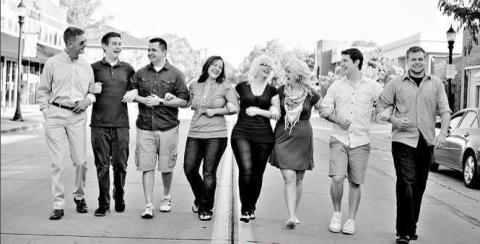 Parenting is the most important ministry in which we can serve. It is the best job in the world -- and also the hardest. So what is the one point I can make in a few words to parents? There is no such thing as a perfect parent (that's true about all people; spouses, children, employers, pastors, friends and so on).
Be free from the expectation of perfection for yourself and your family. Be quick to repent when you make a mistake, because you will make mistakes, your children will disappoint you and sometimes downright shock you in their achievements and in their failures. Television and social media hype skew society and that can lead you to believe you are the only one struggling to parent, or you and your spouse are the only ones who occasionally quarrel, or that everyone else has a perfect life. 
But there is no such thing as perfect in this.
In 2016 my husband Stuart and I were working through our marriage devotional when we came across a section about repenting for our past mistakes and extending each other forgiveness. This brought such healing that we then sat down with our adult children and their spouses, and apologized to them. 
We had not parented perfectly when they were growing up and we wanted them to know we did try to do our best with the tools we had at the time. With almost 30 years of parenting, our tool belts are much better equipped now; we started parenting with broken tools and learned by trial an error. The time of apology with our children brought forgiveness and healing in areas we didn't even know were there. We embrace each other and our imperfections as we work toward living life's that honor God and honor each other. 
Jesus was the only perfect person ever. When I can walk on water, then perhaps perfection is near. Until then, let's be free to serve God, serve our spouses and serve our children. 
Patty Noel is mother of 4 earthly children, two heavenly deposited babies and adopted mom and grandma to dozens and dozens of others all over the world. She and her family have been members of World Revival Church for 20 years.